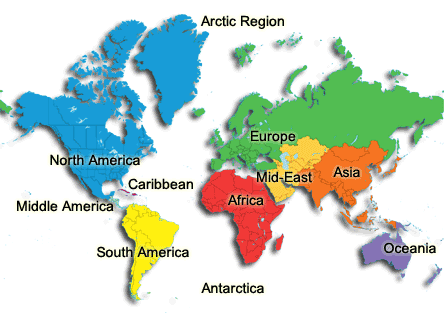 North America | Central America | Caribbean | South America |
Europe | Middle-East | Asia | Oceania | Africa | Polar Regions



The Global Directory of Countries offers a complete list of countries, territories, dependencies and islands that have been issued an Internet country code extension by ICAAN. They are grouped according to their trading sphere of influence in the following "Economic Regions:" North America, Central America, Caribbean, South America, Europe, Middle East, Asia, Oceania and Africa.

Excellent Source of Information for Business People, Students and Tourists.
New countries are constantly being added to this directory.
Please check back for updates.




Asia

| | |
| --- | --- |
| Afghanistan | .af |
| Bangladesh | .bd |
| Bhutan | .bt |
| Brunei | .bn |
| Cambodia | .kh |
| China | .cn |
| East Timor | .tp |
| Hong Kong | .hk |
| India | .in |
| Indonesia | .id |
| Japan | .jp |
| Laos | .la |
| Macau | .mo |
| Malaysia | .my |
| Maldive Islands | .mv |
| Mongolia | .mn |
| Myanmar | .mm |
| Nepal | .np |
| North Korea | .kp |
| Pakistan | .pk |
| Philippines | .ph |
| Singapore | .sg |
| South Korea | .kr |
| Sri Lanka | .lk |
| Taiwan | .tw |
| Thailand | .th |
| Vietnam | .vn |
Oceania

| | |
| --- | --- |
| American Samoa - US | .as |
| Australia | .au |
| Christmas Island | .cx |
| Cocos Island | .cc |
| Cook Islands | .ck |
| Fiji | .fj |
| French Polynesia | .pf |
| Heard / McDonald Islands | .hm |
| Kiribati | .ki |
| Marshall Islands | .mh |
| Micronesia | .fm |
| Nauru | .nr |
| New Caledonia | .nc |
| New Zealand | .nz |
| Niue | .nu |
| Norfolk Island | .nf |
| Northern Mariana Islands | .mp |
| Palau | .pw |
| Papua New Guinea | .pg |
| Pitcairn Island | .pn |
| Solomon Islands | .sb |
| Tokelau Islands | .tk |
| Tonga | .to |
| Tuvalu Islands | .tv |
| Vanuatu | .vu |
| Wallis & Futuna | .wf |
| Western Samoa | .ws |
Africa

| | |
| --- | --- |
| Algeria | .dz |
| Angola | .ao |
| Ascension Island - UK | .ac |
| Benin | .bj |
| Botswana | .bw |
| British Indian Ocean Territory | .io |
| Burkina Faso | .bf |
| Burundi | .bi |
| Cameroon | .cm |
| Cape Verde | .cv |
| Central African Republic | .cf |
| Chad | .td |
| Comoros | .km |
| Congo, Dem. People's Rep. of | .cd |
| Congo, Republic of | .cg |
| Cote d'lvoire | .ci |
| Djibouti | .dj |
| Egypt | .eg |
| Equatorial Guinea | .gq |
| Eritrea | .er |
| Ethiopia | .et |
| French Southern Territories | .tf |
| Gabon | .ga |
| Gambia | .gm |
| Ghana | .gh |
| Guinea | .gn |
| Guinea-Bissau | .gw |
| Ivory Coast | .ci |
| Kenya | .ke |
| Lesotho | .ls |
| Liberia | .lr |
| Libya | .ly |
| Madagascar | .mg |
| Malawi | .mw |
| Mali | .ml |
| Mauritania | .mr |
| Mauritius | .mu |
| Mozambique | .mz |
| Morocco | .ma |
| Mayotte - FR | .yt |
| Namibia | .na |
| Niger | .ne |
| Nigeria | .ng |
| Reunion Island | .re |
| Rwanda | .rw |
| Sao Tome / Principe | .st |
| Senegal | .sn |
| Seychelles | .sc |
| Sierra Leone | .sl |
| Somalia | .so |
| South Africa | .za |
| St. Helena - UK | .sh |
| Sudan | .sd |
| Swaziland | .sz |
| Tanzania | .tz |
| Togo | .tg |
| Tunisia | .tn |
| Uganda | .ug |
| Western Sahara | .eh |
| Zambia | .zm |
| Zimbabwe | .zw |
---